By: Michael Monks
Source: RCN
The Northern Kentucky Chamber of Commerce outlined its eight top priorities for the Kentucky General Assembly which convenes early next year.
Several issues of importance to urban areas are among them including a comprehensive heroin plan, innovation districts, public-private partnerships, historic tax credits, the local option sales tax, and outcomes-based funding for higher education institutions.
The priority list was unveiled at a well-attended event at UpTech, the start-up business accelerator in Covington.
"Our policy development process is very in depth," said Jim Parsons, attorney with Taft Stettinius and Hollister, and Chair of the NKY Chamber Business Advocacy Council. "We have experts from within the Chamber membership develop these policies followed by multiple layers of review to ensure only the most impactful positions make it to the final publication."
The Chamber has also modified the advocacy approach in recent years. Narrowing the agenda to eight items allows for more concerted and more powerful regional approach.
"While there are certainly more policies we support, we've realized through more collaboration with our legislators that we can achieve better success as a business community if we identify the most important issues," said Chamber President Trey Grayson. This will be Grayson's first legislative session at the helm. "Last year's success is proof. NKU's Health Innovation Center, Gateway's Urban Campus, and the Angel Investor Tax Credit have been long standing, community-wide priorities and they got done. We need to continue with that approach."
In addition to the aforementioned priorities, the Chamber will also push for medical review panels and telecommunications reform.
Matt Davis of the Build Our Bridge Now campaign, an advocacy group that supports moving forward on the estimated $2.6 billion Brent Spence Bridge project, spoke in favor of public-private partnerships, one option that could allow the bridge project to happen. The idea is commonly referred to as P3. "P3s are not the exception, they are becoming the norm," Davis said.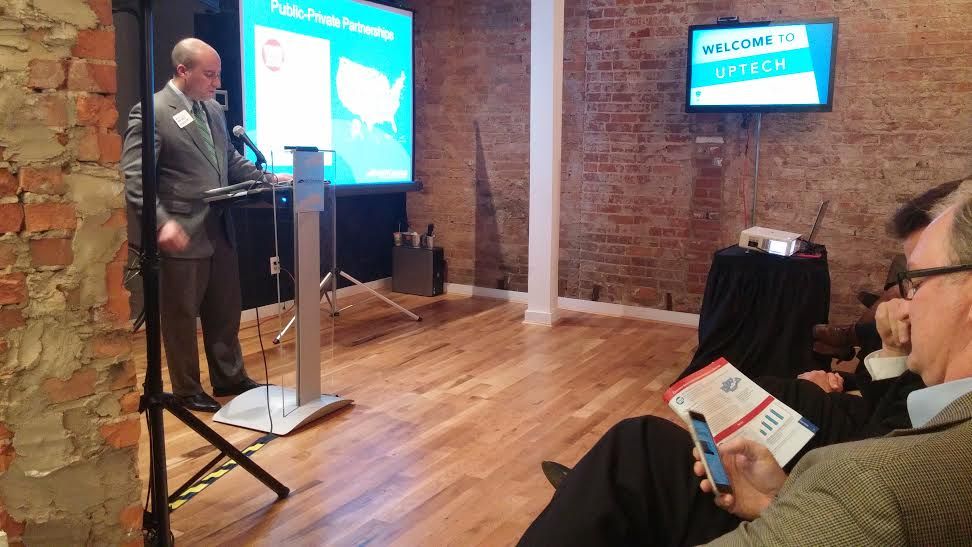 P3 legislation was approved in Frankfort in the 2014 session but was vetoed by Governor Steve Beshear because an exemption was pushed by State Rep. Arnold Simpson (D-Covington) that would not permit tolling as a funding option for the bridge.
"I am vetoing this bill because it encumbers an otherwise well intentioned policy measure with unnecessary elements related to a single, near term project, which should not be enshrined into permanent law," Beshear said in a statement shortly after his veto was announced.
Joe Klare of the Catalytic Fund, the organization that helps urban redevelopment projects create the necessary financing mechanisms, spoke in support of historic tax credits. "With one annual single deadline, tax credit projects are difficult," he said. Tax credits from the state have allowed projects like The Hotel Covington and the Mutual Building (pictured above) to happen. "Developers are opting to invest in other states."
Klare said that new companies, like the ones being developed at UpTech, want urban spaces that attract young professionals and more access to tax credits would allow Northern Kentucky cities to pursue them.
Casey Barach of the Northern Kentucky eZone and UpTech called innovation districts, "the crossroads of a tech economy and urban renaissance". Building on the success of the Angel Investor Tax Credit, an issue pushed for years by Rep. Simpson, Innovation Districts are the next wave of entrepreneurship, the Chamber said in a news release. In this proposal the state would match local, private investment to support a clustering of talent and resources. The Kentucky Innovation Network already provides the expertise and framework to ensure Innovation Districts succeed statewide.
Beyond the urban core of Northern Kentucky, though, Barach said that such districts would benefit places like Carrollton with its strong manufacturing presence and Eastern Kentucky with its university space program.
Campbell County Judge-Executive Steve Pendery endorsed the local option sales tax (LOST). "There is a financial cliff out there that we may still fall over where pensions are concerned," Pendery said. "We need to find ways to develop tools for local communities to cope with environments like that." The LOST gives more flexibility to local municipalities. Through a citizen vote, cities and/or counties can raise the sales tax a maximum of 1% to pay for predetermined capital projects, with the tax being removed upon completion.
Postsecondary Outcomes-Based Funding: Currently, postsecondary funding is based on historical precedence. Approximately one billion dollars are being spent without any metrics for success. By establishing a fair starting point, implementing clear metrics, and rewarding universities for success, Kentucky's postsecondary institutions can deliver the results the Commonwealth needs to compete on a global scale.